Highlights
See an exciting new release with a complimentary general admission ticket
Take advantage of a host of exclusive competitions, discounts and invitations
Watch the HOYTS Rewards Movie of the Week for a discounted price
Earn points to redeem on movie tickets, popcorn, choc tops and soft drinks
Rate films and keep up to date with your points balance online
Link to your Facebook account to share your favourite flicks with friends or organise events
Fine Print
• Limit of 1 voucher per person
• Purchase up to 5 additional as gifts
• Valid for ages 14 and over
• For HOYTS Rewards full terms and conditions please visit
http://www.hoyts.com.au/myhoyts/terms.aspx
• Offer only redeemable online, Groupon vouchers will not be accepted in cinema
• Valid for new members only
• By purchasing this deal you agree to join HOYTS Rewards for 12 months
• Must have a valid email address and mobile number
• General admission ticket is valid for all 2D showings including public holidays. Excludes LUX, XTREME SCREEN cinemas. Surcharge applies to 3D screenings
•
Standard fine print for all deals
How to Redeem
•
Redeem by: 5 Nov 2015
•
Membership valid for 12 months from redemption date
•
General admission ticket valid for 6 months from redemption date
• Book online:
http://www.hoyts.com.au/myhoyts/abouthoytsrewards.aspx
(1)
Fill in your personal contact details, preferred HOYTS Cinema and create a password
(2)
Enter Voucher Code
(3)
Sign in to complete registration
(4)
Visit the friendly staff at your nearest HOYTS Cinema and provide your mobile number or email address to pick up your HOYTS Rewards Card
•
Session times:
http://goo.gl/4EFNIF
Watching movies is a great way to relax and escape everyday life for a few hours, or even longer if the film is about time travel. Become absorbed in cinematic masterpieces with today's Groupon for HOYTS Reward Card, nationwide:
The Deal
$10 for a 12-month HOYTS Rewards Membership with HOYTS cinema ticket (total value up to $12)
Movie buffs treat themselves with a HOYTS Rewards Membership, enhancing every movie screening with exclusive perks. As a member, Groupies receive priority ticket access to selected blockbusters, exclusive invitations and the chance to win big in member-only competitions. With eligible purchases, members can accumulate points to redeem on free movie tickets or tasty treats from the Candy Bar. Enjoy discounted tickets to the nominated HOYTS Rewards Movie of the Week, and share your thoughts online with the Facebook Connect feature.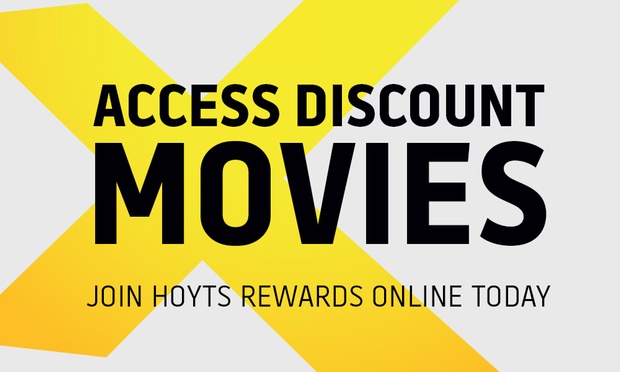 HOYTS Reward Card
With 400 screens and 75,000 seats, HOYTS provides viewing opportunities for audiences across the country. Film buffs and novices alike can head to their nearest HOYTS screen to see the latest blockbusters, comedies, art house films, and more, with options for some films in 3D. For those looking for a unique movie-going experience, HOYTS also offers Xtreme Screen, HOYTS LUX and Bean Bag Cinema. The HOYTS Reward Card offers movie goers a treasure trove of exciting member-only features, including discounts, priority ticket access and opportunities to collect redeemable points.
HOYTS presented by Groupon.com.au