Highlights
96%
of Groupon customers
recommend this business
(based on 200+ reviews)
Experience up to 60 seconds of free fall from up to 14,000ft
Instructors accredited by the Australian Parachute Federation
Team has over 30 years' experience
Beach landings at Redcliffe, above Bribie Island and Moreton Bay
Fine Print
• Purchase multiple vouchers
• Subject to availability and weather conditions
• Participants must sign a general release waiver
• Max weight 110kg
• 2 & 4 person options must be booked together
• $35 APF Levy not included and payable on arrival at jump location
• Valid for ages 12 and over
• Children under 18 require parental consent
• Surcharge applies for weight above 95kg
• Only valid for customers with an Australian residential address
• Must not scuba dive 24 hours prior to skydiving
• Transport not included
• Medical authorisation form must be filled out prior to jump
• Please read Jump the Beach Brisbane's FAQS
•
Standard fine print for all deals
How to Redeem
•
Valid from 26 Dec 2014 to 31 Jan 2015
• Phone to book: 1300 800 840
-
Press "2" for bookings
• State Voucher and Security Code at time of booking
• Present printed voucher on arrival
•
Valid hours:
Daily 26 -31 Dec and Sat-Sun only 1-31 Jan: 6am-5pm
It's fun to feel a little scared every once in a while, which is why people watch scary movies or go to a dentist who works out of an old station wagon. Feel the good kind of adrenalin with today's Groupon for Jump The Beach Brisbane:
The Deal
$195 for a tandem skydive for one person (total value up to $334)
$390 for a tandem skydive for two people (total value up to $668)
$780 for a tandem skydive for four people (total value up to $1,336)
Experience a once-in-a-lifetime skydive with panoramic beach views, leaping from up to 14,000 feet with the help of an experienced and accredited tandem master. After landing at the beach drop zone in Redcliffe, Groupies have the option of buying a photo or video of their big jump.
Jump the Beach Brisbane
Brisbane's Jump the Beach is part of Skydive Australia. Offering a glimpse of Australia's east coast from above, Skydive Australia is committed to helping thrill-junkies live out their fantasies in total safety. A dedication to safety and 100% safety record for all tandem jumps reassures people as they head up into the sky for adrenaline-pumping experience. Each instructor is accredited by the Australian Parachute Federation with thousands of skydives to their name. Every piece of equipment is maintained above the recommended standards and instructors and crew members abide by stringent safety rules and regulations.
Ratings & Reviews
Such a rush! Was given the jump for my birthday and what an experience! Had the best time- the view from the plane and then the jump was awesome- a picture perfect day, great fun!
Sue S, TripAdvisor, May 2014
jump the beach :) amazing but scary experience... would have liked to spend more time to see surrounding areas but a perfect place for a sky dive... brilliant staff
Cary09x, TripAdvisor, May 2014
Details verified 29/10/2014
Learn more about Groupon Merchant Review Policy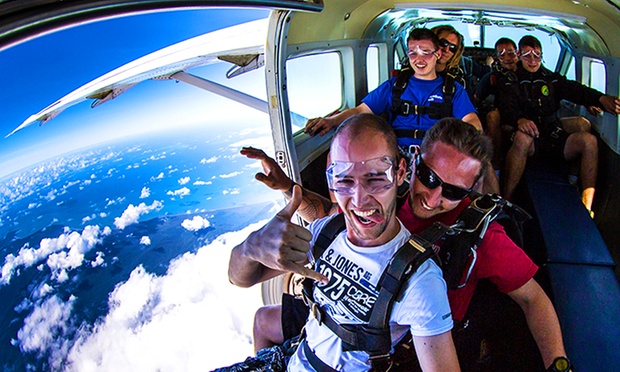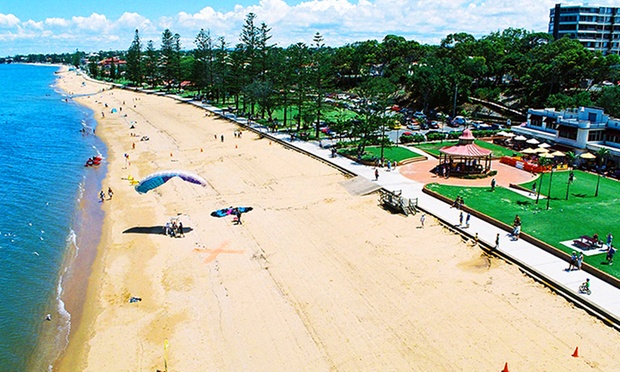 Jump The Beach Brisbane
Jump The Beach Brisbane presented by Groupon.com.au