Water sport addicts crave thrills, speed and the type of revered status Flipper the dolphin has for his brilliant acrobatic tricks. Leave others in your wake with today's Groupon for Cables Wake Park, Penrith: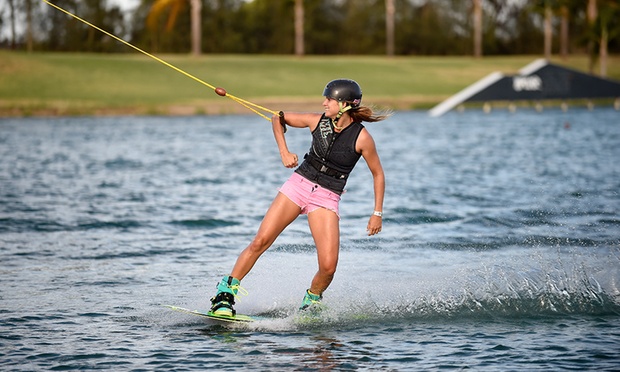 The Deal
$24 for a one-hour wakeboarding or kneeboarding experience (total value up to $49)
$29 for a two-hour wakeboarding or kneeboarding experience (total value up to $59)
$34 for a four-hour wakeboarding or kneeboarding experience (total value up to $69)
$39 for a full-day wakeboarding or kneeboarding experience (total value up to $79)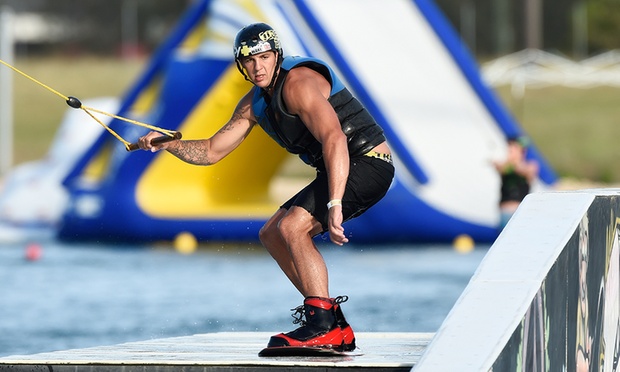 Highlights
Get the adrenaline pumping with a highly experienced instructor
Make a splash with world class facilities across two lakes, including ramps, pipe rails and flat boxes
Session includes board, helmet and life jacket hire
Thrilling experience for first time riders, beginners and high flying pros alike
Make a day of it with the onsite picnic and BBQ facilities, playground and jumping pillow


Cables Wake Park
Just one hour from Sydney's CBD, Cables Wake Park offers a chance for water lovers to learn sports in a safe and picturesque environment. Participants of all abilities can waterski, wakeboard and kneeboard in one of the two main cable lakes. There are 18 obstacles scattered across the two lakes to challenge all riders, including the Quarter Pipe, Alps, Wedge and Outside Kicker. 
Coaching sessions and a weekly Kids' Club offers grommets the chance to hone their skills. When not in the water, families are free to use the host of park facilities, including a jumping pillow, children's playground, basketball court and beach volleyball court. Work up an appetite before cooking up a storm with the BBQ facilities or relaxing at the cafe with views of the lake.
Groupon Customer Reviews
96%
of Groupon customers
recommend this business
(based on 370+ reviews)
"Very friendly and helpful staff , especially the man who runs the cables. He takes the time to talk to the kids and help them out with pointers. Also, the young boys have good advice to the kids while they were waiting in line."
"Had a great cafe wonderful surroundings and great atmosphere"
"We found the staff to be super friendly, especailly it was my daughters first time, they encourage everyone giving it go, keep it up."

Ratings & Reviews
This is a great place for water sports without the boat. Its great to practice for the experienced skier/boarder and easy to learn for the novice. fun with the ducks wallking around and plenty of shade when hot.
Kat S, TripAdvisor, Jul 2015
Two brilliant cables with plenty of features. One runs clockwise, one anti clockwise. We went during school holidays in the summer and it still wasn't too busy. Staff are awesome, especially Nigel the operator! Can't wait to go back
Simon w, TripAdvisor, Jan 2015
Details verified 11/09/2015
Learn more about Groupon Merchant Review Policy
Customer Reviews
Not all areas of park were operating and as my kids were first timers they found trying to learn with the experienced riders on the advanced lake a bit tricky. Would b good if we had known when beginners lake was open so they would have had a better opportunity to learn. It didn't occur to me that only one lake would b running.
Great reception service. The guys helping at the water were incredible...very helpful, providing tips on what to do, friendly....overall great experience!
1

Cables Wake Park


CABLES WAKE PARK, C/O PANTHERS LEAGUES CLUB, MULGOA ROAD

Get Directions