Highlights
Made from durable PU leather, this case is designed to absorb shock and protect the AirPods® against scratches and everyday wear and tear
Recent Positive Reviews
100% Verified Reviews
All reviews are from people who have redeemed deals with this merchant.
See all reviews
About This Deal
The Deal
$10 for one personalised case for AirPods® (Don't pay $45.98)
$18 for two personalised cases for AirPods® (Don't pay $91.96)
Highlights
Made of quality PU leather
Full protection
Shock-absorbing
Fashionable design
Bottom hole for easy charging
Easy to use
Portable and compact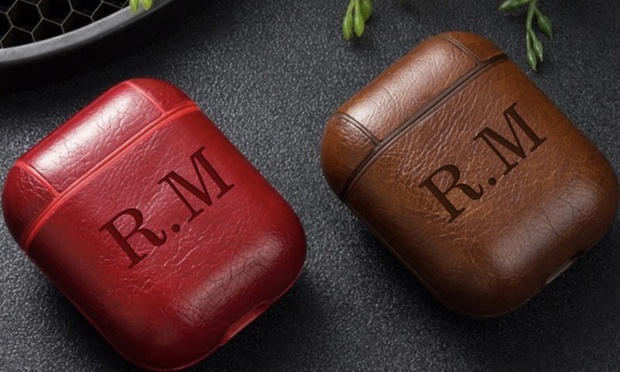 Need To Know
• Delivery not included, variable shipping cost payable upon redemption
• Shipping Charges: Standard - £3.99, Tracked - £7.99
• Limit of 5 vouchers per person
• No refunds for change of mind
• No delivery to PO Boxes or Parcel Lockers
• Price compared to personalisedgiftsmarket.co.uk
• Standard fine print for all deals

How to Redeem
• Redeem before: 30 Aug 2021
•If you have any issue when you try to redeem your voucher code on our website, please follow these steps:
(1) To check the items your voucher is valid for please enter your voucher on this page: https://www.personalisedgiftsmarket.co.uk/index.php?route=product/product&product_id=1828
(2) Select the item and enter the Name/personalisation you'd like to have on the item. Make sure this is correct as any amendments can delay your order - we process all orders on the same day so if you made a mistake it's likely that's how you will receive your item, so make sure this is correct.
(3) Add the item to the cart. You should see a notification pop up: Success: You have added Item to your shopping cart!
(4) Click Cart and View Cart (just click the cart icon if the message disappeared and click Checkout)
(5)Please ensure Currency is set to AUD by clicking the top right of the site and select 'AUD' from the '"Currency" dropdown.
(6) Apply your voucher/coupon code. Please note coupon codes will be valid for the item you have purchased them for. Codes are also location-sensitive, please have them shipped to the same country you purchased them from otherwise the code likely won't work.
(7) Click on the dropdown "Estimate Shipping & taxes". Select "New Zealand" and your delivery State then click "Get Quotes"
(8) Select Shipping Option "AU/NZ Post- AIrpods case-$5.18 (for 1) or $6.24 (for 2 ) and click "Apply Shipping".
Please make sure you choose the correct shipping from the options - tracking and priority processing available at extra cost.
(9) Click Checkout & Accept the Terms & Conditions
(10) Fill in Billing Details, Delivery Details, Payment Method & Confirm your order. Your order has been placed message comes up! You will receive an email confirming your order details.

Please find the detailed guide here

The code you are using must match that on the voucher it is case sensitive and cannot have any spaces at the beginning or the end.

• If you've tried to use code as soon as you've received your voucher then please wait up to 24 hours and try again.
• Please be aware that if you have purchased multiple vouchers then each code must be entered in a separate transaction.
• If one voucher is valid for to 2 or more items, please ensure these are added to your cart.
• Contact email: info@personalisedgiftsmarket.co.uk
About Personalised Gifts Market
Personalised Gifts Market offers the convenience of ordering engraved or monogrammed gifts online for home delivery. Every item in the store is available for customisation whether it's a gift for a child, birthday, wedding or any other occasion. Items on offer include beauty bags, mirrors, pocket watches and T-shirts.