During this unprecedented moment in history, Red Cross is doing what they do best – providing relief and support where it's needed most. Your donation helps Australian Red Cross to support people who are most vulnerable during the COVID-19 pandemic. We're facing this crisis together. Your act of humanity can make a huge difference.
How You Can Support
For 106 years, Red Cross has stood with Australians through disasters, emergencies and the other challenges life throws at us. This is no exception. Red Cross is working with federal and state governments, thousands of volunteers across the country, and millions across the world to respond to the COVID-19 pandemic.
Red Cross's focus remains where it always has been: helping those left most vulnerable, and supporting all Australians to maintain their wellbeing and cope with disruption and uncertainty.
Your donation can help Red Cross continue our essential services to people who are most vulnerable at this time. That includes people who are older, who live in remote or isolated communities, who are seeking asylum and facing destitution.
Your donation can help Red Cross expand our telephone support service to the scale the country needs. With your support, our volunteers will make thousands of calls each day to Australians in isolation who urgently need a wellbeing check. These calls are more than a chat: they are holding our community together.
Finally, your donation can amplify the efforts of other Red Cross and Red Crescent societies, as they tackle the pandemic in refugee camps, in Pacific island villages, in urban centres and other places where thousands of lives are at risk.
COVID-19 Pandemic
The COVID-19 pandemic is unprecedented in recent history. It is both a public health crisis and a humanitarian crisis that is impacting the lives, health and livelihoods of people around the world. The potential impact of COVID-19 on the world's most vulnerable people already affected by displacement, conflict, natural disasters and climate change makes it the most urgent threat of our times. To learn more about Australian Red Cross' response to the COVID-19 pandemic, please visit here.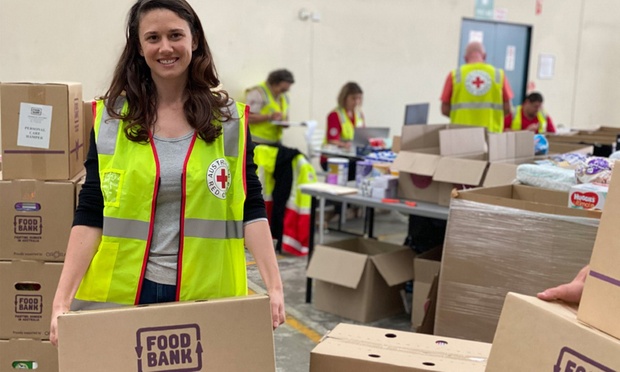 Red Cross emergency services volunteers in Victoria delivering relief packages full of food, water and personal care items to people who are isolating with little to no food and no network of family to support them. Photo: Australian Red Cross/Alex Hahn.
Need To Know
• Groupon Australia is fundraising on behalf of the Australian Red Cross Society and receives no funds for this deal
• All donations go directly to the Australian Red Cross
• The Australian Red Cross Society, ABN 50 169 561 394, is endorsed by the Australian Taxation Office as a Deductible Gift Recipient and therefore gifts of two dollars or more to the Society in each State or Territory are tax-deductible for the donor (AU residents / donors only). For more information please contact us.
• The Australian Red Cross Society will issue tax-deductible receipts via email (AU residents / donors only)
• The Australian Red Cross Society is exempt from income tax as a not-for-profit organisation
• To read a copy of the Australian Red Cross Society privacy policy please click here
• Standard fine print for all Groupon deals

How to Donate
• Click on the 'Buy' button to be re-directed to the Australian Red Cross website where you can make your donation (alternatively, just click here).
• As you are donating directly through the Australian Red Cross website you will not receive a Groupon voucher
• The Australian Red Cross Society will issue tax-deductible receipts via email

About Australian Red Cross