Highlights
Grab a quick snack with a regular coffee at any time of the day
Enjoy the ham and cheese sandwich toasted or untoasted
Caffeine lovers can opt for a 10-coffee card to recharge over a longer period
Fine Print
• Limit of 3 vouchers per person
• Purchase up to 3 additional as gifts
• Coffee is regular size
• Coffee card valid for 3 months from date of issue
• Original value verified 17 Jul 2014
•
Standard fine print for all deals
How to Redeem
•
Expiry: 90 days from purchase
• No booking required
• Present printed voucher on arrival to receive prepaid coffee card or to redeem coffee and sandwich option
•
Valid hours:
Mon-Fri: 6am-7pm
Sat-Sun: open during Port Adelaide or Crows home games
Along with water and oxygen, most people need coffee to fully function and make sensible decisions, like opting to relocate pet fish to the bathtub so they can get more exercise. Refuel right with today's Groupon at Recharge Bar, Hindmarsh:
The Deal
$4 for a coffee and toasted ham and cheese sandwich (total value up to $7.70)
$15 for 10 coffees (total value up to $32)
Recharge Bar
Ideally located next to the tram stop on Port Road, Recharge Bar offers customers hot coffee and light eats on the run. Try wraps, sandwiches and muffins morning, noon or night. Recharge Bar is also open on the weekend during Port Adelaide and Crows home games to keep footy fans re-fueled.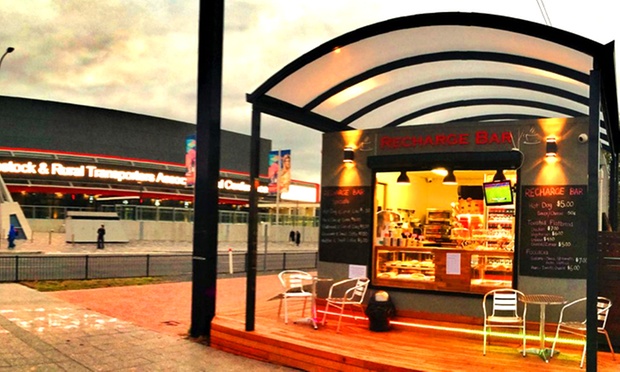 Recharge Bar
Recharge Bar presented by Groupon.com.au