Highlights
Each session includes up to three short 4D films
Combines a 3D cinema experience with the features of a theme park ride
Experience the thrill of interactive seats and special effects built into the theatre including wind bubbles, rain and snow
Choose from an array of short films and experiences suitable for all ages
Drive a Formula 1 race car, ride a roller coaster or swim with sharks
Perfect for upcoming school holidays
Fine Print
• Limit of 3 vouchers per person
• Purchase up to 10 additional as gifts
• Valid for 1 session which includes a min of two movies with a max of 3
• Customers must leave the cinema at the end of each movie/ride for cleaning purposes
• Please arrive at least 15 mins before your booked session time to ensure you are seated and issued with your 4D glasses
• Children 7 years and under must be accompanied by an adult
• Please note some of the films involve tense shaking, people who are suffer from existing health conditions such as, but not limited to, high blood pressure, heart disease, vertigo, or neck and back weaknesses are advised not to participate on this ride
• Persons who are pregnant or over the age of 80 are advised not to participate on this ride
•
Standard fine print for all deals
How to Redeem
•
Valid to: 18 Oct 2015
• Book online:
http://goo.gl/vhBmTW
(1)
Read booking instructions and click 'Redeem'
(2)
Select deal option purchased, enter Voucher Code and look up code
(3)
Log in to account or create a new account (account has now been credited)
(4)
Click "make another booking" - choose your session date and time click "book"
(5)
Select required tickets and click "book" (you will not be charged)
(6)
Select option to use prepaid tickets
(7)
Agree to terms and conditions and click "confirm"
• Present printed or smartphone voucher on arrival
• Download free Groupon app for
Android
and
iOS
The Deal
$13 for tickets to a 4D Dynamic Cinema session for two people (total value up to $30)
$19 for tickets to a 4D Dynamic Cinema session for three people (total value up to $45)
$24 for tickets to a 4D Dynamic Cinema session for four people (total value up to $60)
Highlights
Each session includes up to three short 4D films
Combines a 3D cinema experience with the features of a theme park ride
Experience the thrill of interactive seats and special effects built into the theatre including wind bubbles, rain and snow
Choose from an array of short films and experiences suitable for all ages
Drive a Formula 1 race car, ride a roller coaster or swim with sharks
Perfect for upcoming school holidays


See the world through new lenses via your 3D glasses which propels you into the world of race cars, roller coasters or Jurassic beasts. The theatre comes equipped with water jets, wind fans and bubble blowers. The immersive experience is enhanced with a surround sound system and moving chairs which replicate the movement of a free fall, roll, or flying glide.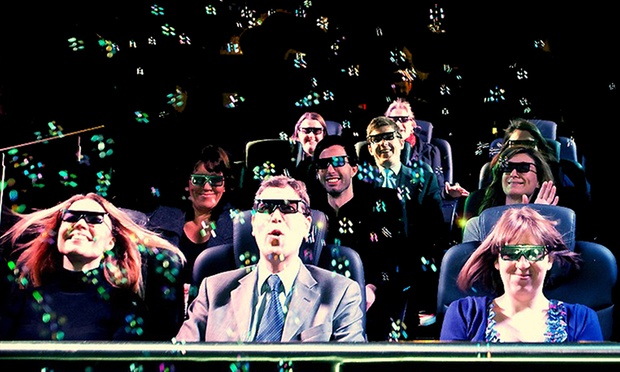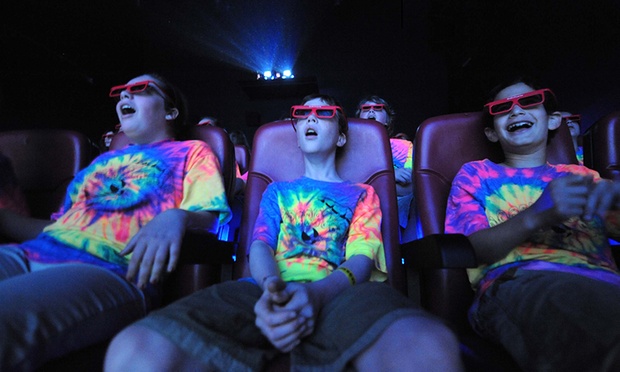 4D Dynamic Cinema
4D Dynamic Cinema is Melbourne's first 4D cinema, incorporating moving seats and interactive special effects into each show for an immersive experience. The theatre is equipped with specialised gear including 3D projection, water jets and wind machines to help keep audiences on the edge of their seats throughout each session. 4D Dynamic Cinema is open seven days a week.
4D Dynamic Cinema
4D Dynamic Cinema presented by Groupon.com.au