Highlights
94%
of Groupon customers
recommend this business
(based on 610+ reviews)
Multi award-winning venue including AHA National Awards for Excellence and Gold Plate Awards
Sip on a bottle of Moët & Chandon Imperial Brut
Fight over mouthwatering tapas dishes like prosciutto wrapped rock melon, duck spring rolls, ham hock terrine and much more
Enjoy dining downstairs on the lower deck bar or upstairs at the intimate Reid's Lounge
Take in the views of Hillarys Harbour
Fine Print
• Limit of 5 vouchers per person
• Purchase up to 5 additional as gifts
• Not valid on public holidays
• Valid for set menu only
• Valid at either bar:
- Reid's Lounge, or
- The Lower Deck
• Breakwater's dress code applies. See website for details
http://bit.ly/1PJk9Xz
•
Standard fine print for all deals
How to Redeem
•
Valid to: 15 Sep 2015
• No booking required
• Present printed voucher on arrival
•
Valid hours:
Mon-Sun: 11am-9.30pm
Sharing is a key component of any relationship, like trust, patience and having the right lie on hand for those "Does This Make Me Look Fat" moments. Share delicious food with today's Groupon for The Breakwater, Hillarys:
The Deal
$95 for a tapas plate and bottle of Moët & Chandon for two people (total value up to $200)
$185 for a tapas plate and two bottles of Moët & Chandon (total value up to $400)
Taste a selection of gourmet tapas morsels including ham hock terrine, Turkish bread with extra virgin olive oil, rock melon wrapped in prosciutto, mini goats cheese and butternut pumpkin tart, crab and cream cheese mousse, and duck spring rolls, while taking in Hillarys Harbour's water views. Drink in the natural surrounds, eat the freshly prepared bites, and toast the occasion with a bottle of Moët & Chandon Imperial Brut.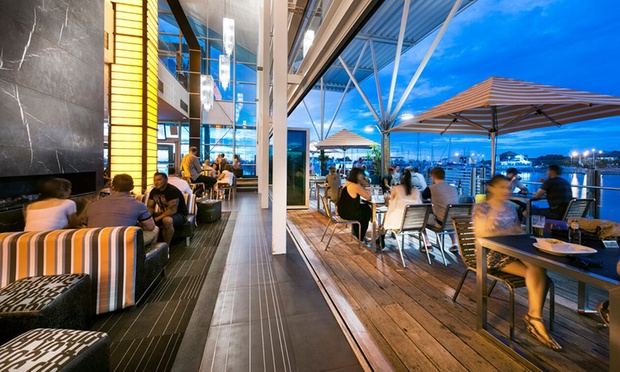 The Breakwater
Known for creating flavoursome food, The Breakwater allows patrons to enjoy expansive views across the harbour and out to the Indian Ocean while appeasing appetites and refreshing palates. Suitable for special events and casual catch-ups alike, the well-designed establishment comprises of a stylish yet relaxed restaurant, main bar on the lower deck, intimate cocktail bar and private function suite.
"Lovely scenery and great value Grouon deal. Staff are friendly."
"Excellent Tapas!"
"Lovely lively atmosphere, great food and scenery."
Ratings & Reviews
Excellent Service. Went for lunch and a few cocktails with my friend on Monday (6/04), we ordered the grilled barramundi and the szechuan pepper calamari. The cocktails we ordered were outstanding, the house cocktail, belvedere breakwater, was by far my favourite, it was zesty and refreshing with the right amount of sweetness.
Caitlin Bayliss, Zomato, April 2015
Came here back in February with a friend for a few relaxing drinks on a Friday night. The atmosphere was buzzing without being too much. Lots of people of various ages. We had a couple of bottles of sparkling wine - very yummy! Plus we ordered a pizza which was perfect with a nice thin crust.
bronzedfrombucks, TripAdvisor, April 2015
Details verified 22/06/2015
Learn more about Groupon Merchant Review Policy
The Breakwater
The Breakwater presented by Groupon.com.au