In a Nutshell
The aim of Fillerina is to provide large quantities of hyaluronic acid that by binding water boosts the appearance of cheeks and lips
Product Details
The Deal
$45 for a Fillerina Grade 1 Eye and Lips Cream (Don't pay $90)
Daily cosmetic cream with replenishing action for lips and eye contour
Designed to moisturise and protect
To be used alone or in combination with other Fillerina preparations
Contains six hyaluronic acid molecules which penetrate to all skin layers
Aims to gradually fill in fine lines around the eyes and the lips (over time)
Designed to build and plump the lips and keep them hydrated
Tube capacity: 15ml
Apply a small amount to the fingertip and tap completely around the eye area, including the brow bone
Apply on and around the lips
Use twice daily (morning and evening for best results)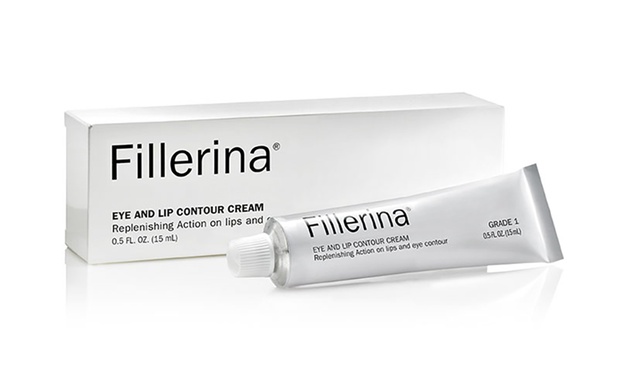 $65 for a Fillerina Lip Plump (Don't pay $110)
Lip plumping gel grade promotes the increase of lip volume
Filling and plumping properties
Contains six hyaluronic acid molecules with different molecular weights (from 1000 Dalton to 2 million Dalton)
Help reduce the appearance of fine lines around the lip area (gradually, over time)
Capacity: 5ml
To properly spread the product, press repeatedly but gently on the plunger located at the end of the applicator
Fair amount of gel will exit from the metal ball tip
Apply up to five times a day on clean lips, spreading a uniform and consistent layer of gel
Let the active ingredients penetrate for few minutes before applying any lipstick or lip gloss
It is recommended to apply the product for a month
During the cycle of applications drink lots of water
Treatment can be repeated several times a year (for example at three-month intervals)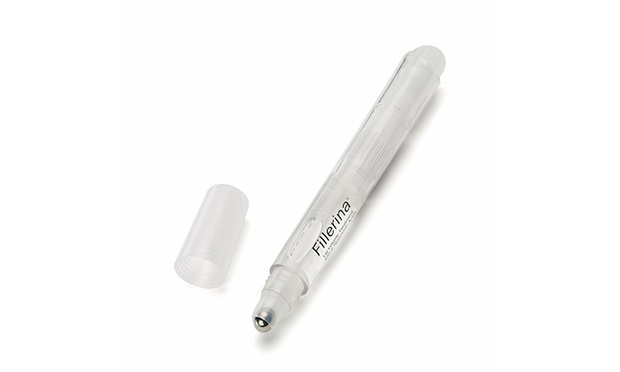 $55 for a Fillerina Grade 1 Day Cream (Don't pay $115)
$65 for a Fillerina Grade 2 Day Cream (Don't pay $138)
Daily maintenance plumping cream
Contains six hyaluronic acid molecules to prolong the results of the replenishing treatment
Gentle to the skin
Designed to provide day-long skin hydration
Aims to reduce the appearance of facial fine lines
Tube capacity: 50ml
Use every morning as a moisturising cream
Warm up a dime-size amount between palms
Pat/rub the cream onto the face and neck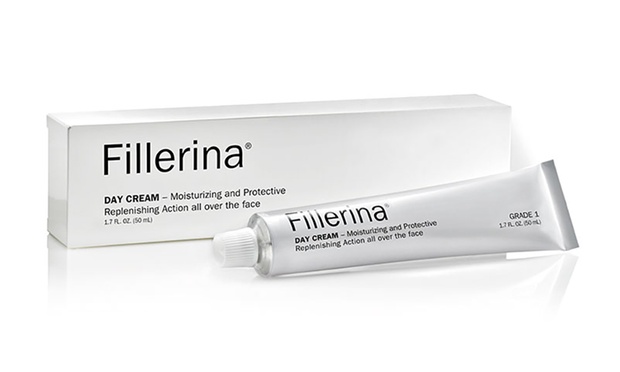 $65 for a Fillerina Grade 1 Night Cream (Don't pay $142)
$75 for a Fillerina Grade 2 Night Cream
Nightly maintenance plumping cream
Contains six hyaluronic acid molecules to prolong the results of the replenishing treatment
Gentle to the skin
Designed to provide night-long skin hydration
Aims to reduce the appearance of facial fine lines
Tube capacity: 50ml
Use nightly on clean skin
Warm up a dime-size between the palms
Pat/rub the cream onto the face and neck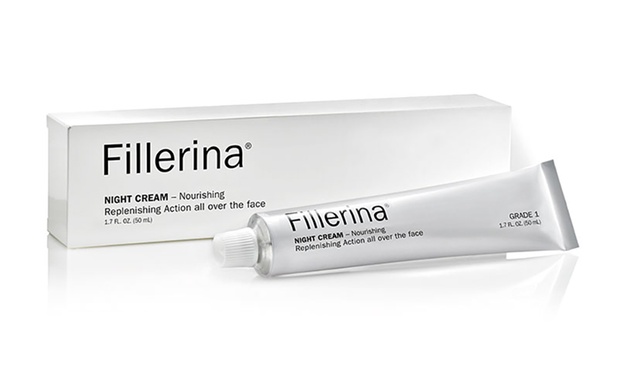 $99 for a Fillerina Grade 1 Dermocosmetic Filler (Don't pay $195)
$109 for a Fillerina Grade 2 Dermocosmetic Filler (Don't pay $210)
Includes: replenishing gel preparation and nourishing film for the oval of the face
Two-phase method
Phase one: penetrates the skin's deepest layers to plump up the fine line depth and create the appearance of volume in the cheekbones and lips
Phase two: leaves a soft, silky feel with skin-loving ingredients (including moisture-rich vitamin E, Meadowfoam seed oil and shea butter
Pack contains: 14 doses (2ml) of replenishing gel (plumper) and 14 doses (2ml) of nourishing film, two precision applicators
Recommended to use at night, consistently for fourteen days
2ml each night will last 14 days
Fillerina Treatment grade 1 can also be used on the neck and decollete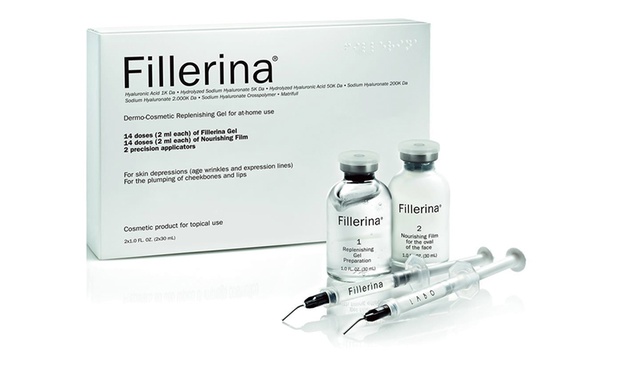 How to Choose a Grade
Grade 1
Initial appearance of skin relaxation and sagging
Replenishing of initial fine lines and plumping of cheekbones and lips volume
Grade 2
Slight appearance of skin relaxation and sagging
Replenishing of fine lines and plumping of cheekbones and lips volume
Grade 3
Visible appearance of skin relaxation and sagging
Replenishing of moderate fine lines and plumping of cheekbones and lips volume
Please Note: It is advisable to drink two glasses of water before the application of Fillerina gel. Hyaluronic acid is a hydrophilic substance and requires water to transfer from outside the skin into the dermis. Without water, hyaluronic acid will not penetrate the dermis or the epidermis.
Click here to see the list of ingredients
The Fine Print
• Variable postage & handling fee on checkout
• For external use only
• Limit of 5 vouchers per option
• No refunds for change of mind
• No delivery to PO Boxes or Parcel Lockers
• Price compared to www.myfillerina.com.au
• Standard fine print for all deals


How to Redeem

• Buy your Groupon
• Ensure you enter the correct address at checkout on Groupon
• A valid phone number is required to assist with delivery
• No need for further action or redemption after checkout


Shipping Information

• Fully tracked shipping - to track the status of your order click Track Package on the My Groupons section of your account
• Estimated delivery for Sydney/Melbourne/Brisbane metro customers is 5-10 business days
• Nationwide maximum delivery time is 14 days
• For more on shipping, see the FAQ

PLEASE NOTE: Due to the current increased pressure on global logistics networks, your order may experience a delay of up to 10 business days on top of the original delivery time-frame mentioned above. We apologise for any inconvenience caused.