Highlights
97%
of Groupon customers
recommend this business
(based on 280+ reviews)
Glide over Fraser Island, Carlo Sandblow and Double Island Point before making a beach landing
Freefall at 220kph for 15, 25 or 35 seconds
Includes pre-jump training
Each skydive takes around 90 minutes to 120 minutes
Video and photo package can be purchased on the day of your jump for $150
Fine Print
• Limit of 5 vouchers per person
• Purchase up to 5 additional as gifts
• Max 1 voucher per visit
• Valid for ages 12 and over
• Subject to availability and weather conditions
•
$50 booking and admin fee to be paid directly to merchant on the day of the jump
• Max weight 90kg (91kg-95kg additional charge $30 96kg-100kg additional $50 surcharge)
• When booking, all tandem passengers will be asked for their weight and then weighed prior to boarding aircraft. If weight is more than quoted and over 90kg, additional surcharges above apply and over 100kg the voucher will be cancelled and no refund will be given
• Runners/joggers must be worn
• No scuba diving 24 hours prior to skydiving
•
Standard fine print for all deals
How to Redeem
•
Valid to: 29 Oct 2015
• Email to book:
rainbow@skydiveforfun.com.au
• Phone to book: 0418 218 358
(1)
Must email PDF voucher to confirm booking
• State Voucher and Security Code at time of booking
• Present printed or smartphone voucher on arrival
• Download free Groupon app for
Android
and
iOS
Adrenaline rushes can come from bungee jumping, white water rafting or making it inside just as a herd of rampaging bulls spots your red jumper. Live on the wild side with today's Groupon for Skydive Rainbow Beach:
The Deal
$149 for a tandem skydive up to 6,000 ft (total value $249)
$179 for a tandem skydive up to 8,000 ft (total value $279)
$199 for a tandem skydive up to 10,000 ft (total value $299)
$249 for a tandem skydive up to 15,000ft (total value up to $379)
Highlights
Glide over Fraser Island, Carlo Sandblow and Double Island Point before making a beach landing
Freefall at 220kph for 15, 25 or 35 seconds
Includes pre-jump training
Each skydive takes around 90 minutes to 120 minutes
Video and photo package can be purchased on the day of your jump for $150

Daring Groupies are in for an exhilarating ride of their life, braving the chasm between the heavens and the earth. Folks take the thrill ride strapped to a seasoned pro, who handles all the tricky stuff leaving passengers free to soak up the awesome vistas. An action packed 220kph freefall kicks things off, before the 'chute deploys and Groupies take the ultimate scenic route over such sightseeing staples.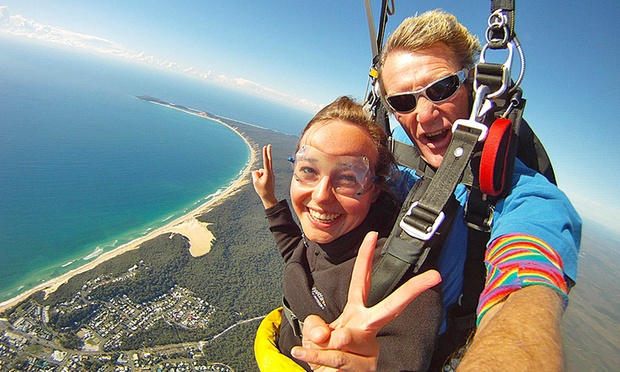 Skydive Rainbow Beach
Skydive Rainbow Beach offers a range of skydive experiences over coastal Queensland landscapes. Tandem jumps can be done from up to 15,000 feet with more than one minute of free falling. The crew also offer a skydive safari trip where those who dare can do four jumps from three different locations in just one day. The group has a private plane with meals, drinks and souvenirs available from each plane.
Groupon Customer Reviews
97%
of Groupon customers
recommend this business
(based on 280+ reviews)
"Thank you so much guys for a unforgettable time, the pictures are amazing. We will be back!"
"skydiving team made the event so much more awesome, a great bunch of people"
"Really nice staff, an amazing experience !!"

Ratings & Reviews
What an incredible experience! A big thanks to Richard for creating the most exhilarating and fun experience. Laughing and talking all the way! The views were incredible, rainbow beach, a great place for a very personal (2 jumpers) experience. Go do it!!
Katie G, TripAdvisor, May 2015
The whole experience from start to finish was amazing. The people there were very nice, equipment was good, plane was good, and the landing site was just awesome. I did the 14,000 foot jump in order to get the 1 min free fall experience and it was for sure the way you need to do it.
Adam B, TripAdvisor, March 2015
Details verified 20/07/2015
Learn more about Groupon Merchant Review Policy
Skydive Rainbow Beach
Skydive Rainbow Beach presented by Groupon.com.au